Washington, DC Research Facts and Visitor Research
Destination DC releases key tourism facts and figures annually. The following documents provide additional and historical information about the Washington, DC hospitality industry. Please note that our statistics are released annually.
To learn more about Destination DC research and reports, or to discuss what information may be relevant to your organization and its needs, please contact Kelly Jiang, Senior Research Manager, at [email protected].
For additional statistics about DC, visit census.gov
Hotel Facts
There are approximately 132 hotels with 31,673 hotel rooms located in Washington, DC. The Greater Washington Metropolitan Area is home to 695 hotels with 111,216 rooms (including those located within DC proper).

There are 4,635 committable rooms within 1 mile of the Walter E. Washington Convention Center.

There are 18 properties with 4,104 rooms currently in the construction pipeline in Washington, DC that are expected to be delivered in 2017 and beyond, including 8 that are currently under construction.

The 1,175-room Marriott Marquis Washington, DC opened next to the Walter E. Washington Convention Center in May 2014, connected by a pedestrian concourse.

DC's hotel occupancy reaches its peak in March through July and October. Average daily rates reach their highest levels during March through May and October.
Sources: Lodging Econometrics, STR, Inc.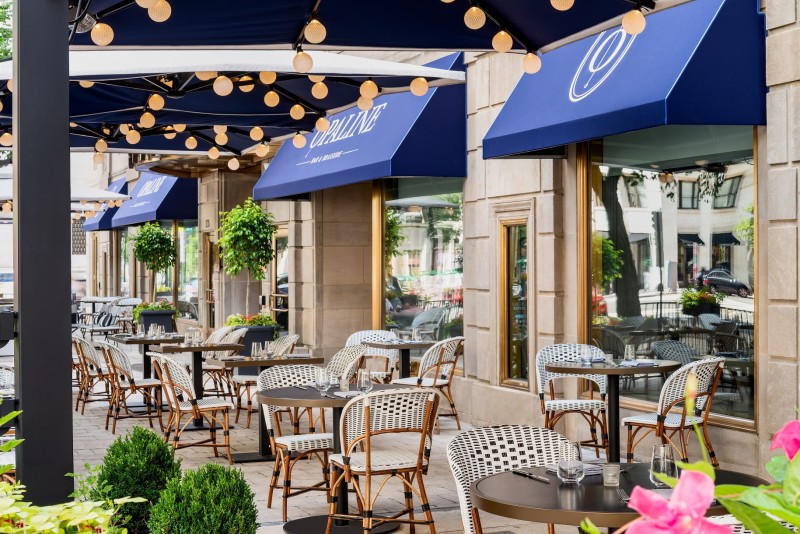 Restaurant Facts
There are 2,233 restaurants located in Washington, DC.

72 restaurants in the city itself received Zagat food scores of 4.5 or higher (out of a possible 5.0).

DC's culinary distinctions include James Beard award-winning chefs, AAA Five Diamond ratings, restaurants included on Bon Appetit's list of the "Best New Restaurants in America" and Bon Appetit's "Restaurant City of the Year" in 2016. 

More than 90 DC restaurants offer private dining space, including 10 within a few blocks of the convention center. Another 26 restaurants with private dining space are located within 1.5 miles of the convention center.
Sources: National Restaurant Association, Zagat
Visitor Statistics
DC welcomed a record 24.6 million total visitors in 2019.

In 2019, there were 22.8 million domestic visitors to DC, and $8.2 billion in visitor spending for the city alone.

Approximately 1.8 million overseas visitors traveled to DC in 2019. Top countries of origin include: China, United Kingdom, India, Germany, South Korea, France, Australia, Italy, Brazil and Spain.
For more visitor statistics, please visit our Visitor Research page. 
Attractions
Top attractions include (with annual visitation)
*Sources: National Park Service; Smithsonian Institution
Washington, DC Demographic Information
Population: 705,749

47% male and 53% female

Greater Washington has one of the best educated workforces in the U.S. 59% of Washington, DC residents hold a Bachelor's Degree or higher (compared to 32% of U.S. population).

DC's population is 46% African American (compared to 13% of U.S. population) and 11% Hispanic/Latino (compared to 19% of U.S. population).

18% of the Washington, DC population is under the age of 18.

Median household income: $86,420
Sources: US Census Bureau
Major Meeting & Convention Facilities in Washington, DC
Walter E. Washington Convention Center
703,000 square feet of prime exhibit space (five exhibit halls on two levels)
198,000 square feet of meeting room space
79 meeting rooms
52,000 square foot ballroom
38,000 square feet of dedicated registration space
DC Armory National Guard Building
70,000 square feet of exhibit space
86,000 square feet of exhibit space
26 meeting rooms
1,126 guest rooms and 49 suites
105,000 square feet of event space     
1,048 guest rooms and 104 suites
195,000 square feet of event space
1,070 guest rooms
110,000 square feet of event space
871 guest rooms and 26 suites
44,000 square feet of event space
838 guest rooms and 31 suites
38,000 square feet of event space
783 guest rooms and 51 suites
100,000 square feet of event space
807 guest rooms
64,000 square feet of event space
Transportation
Airport
There are 3 DC-area airports - Ronald Reagan National Airport (DCA), Washington Dulles International Airport (IAD) and Baltimore/Washington International Thurgood Marshall Airport (BWI)

These airports service 69 million passengers each year.

Reagan National Airport offers 399 daily departures to 93 domestic destinations.

Dulles International Airport supports 236 daily departures to 75 domestic destinations and 60 daily departures to 56 international destinations.

BWI handles 344 scheduled domestic flights and international flights daily. This includes nonstop flights to 69 domestic and 15 international destinations.
Train
Union Station in DC is home to Amtrak and multiple commuter rail services; 5.0 million Amtrak passengers travel through DC each year
Public Transportation
Metrorail & Metrobus
The Metro system is the nation's second-largest heavy rail system with 6 rail lines, 117 miles of track and 91 stations, servicing 204 million trips each year.

For hours, fares and station information, visit wmata.com.
DC Circulator
6 bus routes service 5 million riders each year, connecting Union Station with Georgetown, the Walter E. Washington Convention Center and Nationals Park, the Zoo with downtown, , and a seasonal loop around the National Mall, all for just $1.

For hours, passes and route maps, visit dccirculator.com.
Taxis
The DC taxi cab system operates on a meter system.

Fares begin at $3.25, plus 27 cents per each additional 1/8 mile.

Cab fare from Ronald Reagan National Airport (DCA) to Walter E. Washington Convention Center are $19-25.
Green Initiatives
70 percent of land in Washington, DC is controlled by the National Park Service. There are 250,000 acres of parkland in the Greater Washington Metropolitan area.
In 2015, DC was named third in the country for ParkScore by the Trust for Public Land, which evaluates the size of park land, access and city investment.
In late 2006, City Council passed an initiative making the nation's capital the first major city to require developers to adhere to guidelines established by the U.S. Green Building Council.
The Washington Nationals ballpark is the country's first LEED Silvercertified ballpark by the U.S. Green Building Council.
The Walter E. Washington Convention Center is a green meeting facility, with earth-friendly features like low emission glass that controls heat gain and loss and maximizes natural lighting; energy-conserving heating, ventilation and air conditioning systems that operate in zones; high-efficiency lighting; automatic controls on restroom fixtures; plus recycling programs and easy public transportation access.
DC's hotels have implemented green initiatives, including wind power, renewable energy credits, recycling and adopt-a-park programs with neighborhood green spaces.
For more information, click here to learn about the green experience in DC.
International DC
17% of DC residents speak a language other than English at home.

14% of DC residents are foreign-born.

The Greater Washington region is home to 400 international association, 1,000 internationally owned companies and more than 180 embassies and international cultural centers.
*US Census Bureau
Sales Tax
DC sales tax: 6%

DC hotel tax: 14.95 %

DC restaurant tax: 10%

Maryland: Sales tax is 6%. Hotel tax varies by county with most counties averaging between 5% and 8%.

Virginia: Sales tax is 5.3%. Hotel tax varies by county with most counties averaging between 9% and 11%.
Climate
DC has a generally temperate climate, with pleasant springs and autumns, and mild winters with approximately 14.3 inches of seasonal snowfall.
Month: Average Low (Fahrenheit) | Average High (Fahrenheit)
January: 25 | 44

February: 27 | 47

March: 35 | 56

April: 44 | 67

May: 54 | 76

June: 63 | 85

uly: 68 | 89

August: 66 | 87

September: 59 | 81

October: 46 | 69

November: 37 | 59

December: 30 | 48
Washington, DC College/Universities Information
American University
Bowie State University
Gallaudet University
George Mason University
Georgetown University
Howard University

Marymount University
Montgomery College
Northern Virginia Community College
Prince George's Community College
Strayer University
The Catholic University of America
The George Washington University
Trinity Washington University
University of Maryland, College Park
University of Maryland, University College
University of Phoenix
University of the District of Columbia
Largest Hospitals in Washington, DC
(with number of total beds)
MedStar Washington Hospital Center (742)
Providence Hospital (467)
MedStar Georgetown University Hospital (395)
The George Washington University Hospital (364)
Children's National Medical Center (313)
Sibley Memorial Hospital (235)
United Medical Center (210)
Howard University Hospital (190)