Discover what makes Washington, DC a sustainable destination for your next meeting, convention or event.
The nation's capital boasts a range of practices and policies that make environmental accountability a priority for residents and visitors alike, allowing them to adopt sustainable measures readily. Residents are often found walking to their next destination because of their proximity to a diverse range of national parks, including the National Mall. Explore the top 5 ways in which Washington, DC is a top sustainable city for your next event.
01
Transparency and Accountability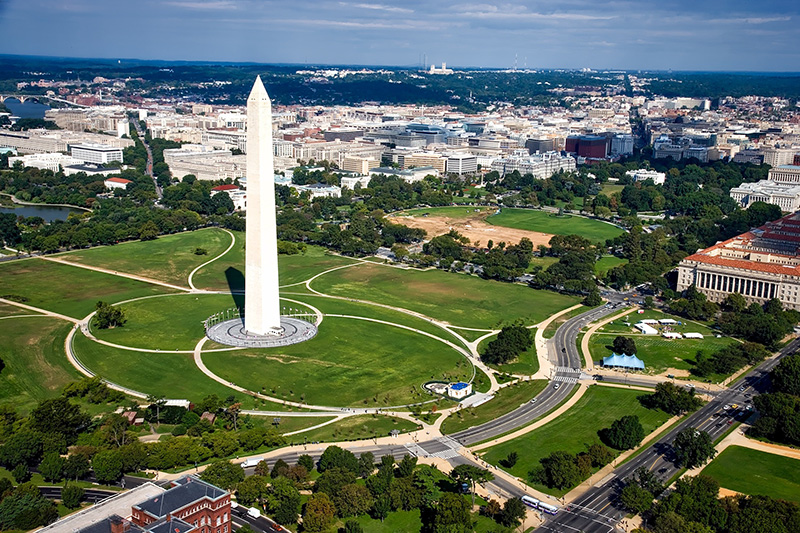 DC knows that the journey of becoming a truly sustainable destination is too important to delay. That is why DC has included itself among the pioneering group of cities and regions participating in the Global Destination Sustainability-Index Assessment since 2018. The all-encompassing evaluation serves as a benchmarking tool for destinations looking to not only show off their hard work regarding social and environmental sustainability, but to share best practices with other destinations around the world and ultimately improve their own performance.
In 2022, Washington, DC was the only U.S. destination and one of only 65 in the world to submit an assessment. Initiatives by our city's leadership, like Sustainable DC, went far in proving DC's commitment to stopping the progress of and adapting to the effects of climate change. Destination DC's own relationship with its nearly 1,000 members also boosted its score in destination management. Perhaps most important to the assessment were the various ways DC is prepared to welcome meeting attendees and leisure travelers to the city and help make sustainable options the easy choice.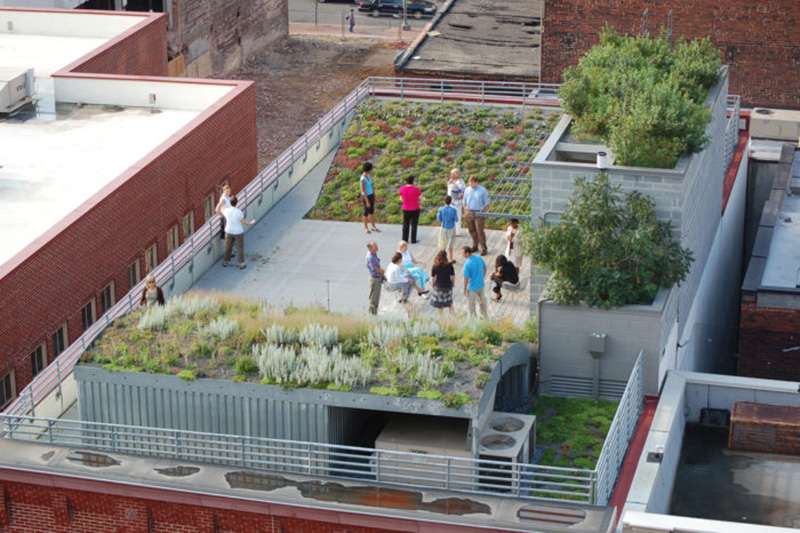 Green roof at the headquarters of the American Society of Landscape Architects; photo by DC Dept of Energy and Environment
Though the city did not rank among the top of this year's participating destinations, we celebrate the willingness to embrace the past to a more sustainable future. Whether your group requires multiple venues and hotels or fits happily in-house, planners and attendees can relax knowing that sustainability is considered at every step taken along DC's historic and vibrant streets – always with plans to improve.
02
Walkability and Sustainable Transportation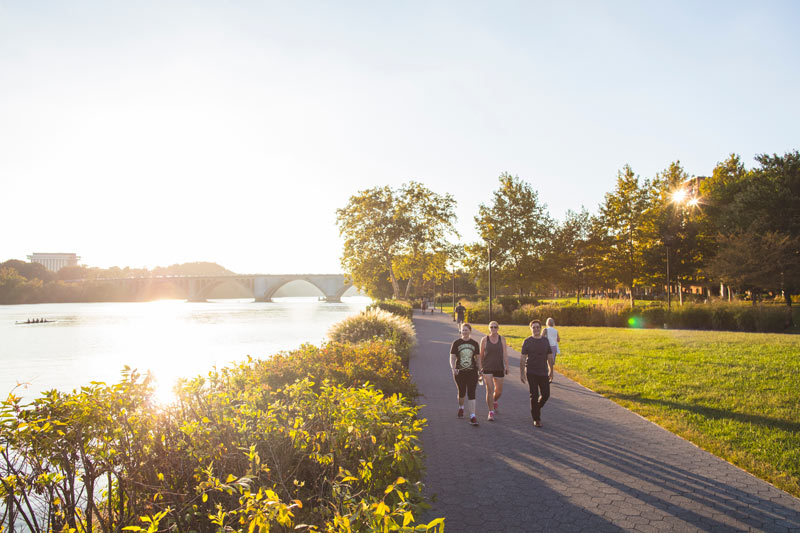 Georgetown Waterfront Park
With 40-plus hotels within walking distance of the Walter E. Washington Convention Center, the ease of commuting within the nation's capital is a key benefit for business travelers. DC sets the scene for sustainable commuting. In fact, more than 50 percent of commuter trips in DC are by bike, walking or public transit and the DC Government is 100 percent powered by renewable energy, according to USGBC.
The American Geophysical Union (AGU) hosted 28,000 attendees for its 2018 fall meeting in Washington, DC without the use of a shuttle, and will return to the city for its 2024 fall meeting.
 
"We selected Washington, DC in large part because the city is so walkable and has excellent public transportation," said Lauren Parr, vice president of meetings, AGU. "AGU never shuttles for large meetings as it's a carbon and financial expenditure that we don't wish to incur, and we had excellent feedback from our attendees on what a great walking city DC is. DC was a great choice for AGU and it's a great choice for any planner looking to leverage the local transportation options and eliminate shuttles."
Many meeting planners continue to look at Washington, DC as a city that doesn't need shuttles, because of its convenience.
Washington, DC was the first city in North America to launch a bike share system, which now has more than 5,000 bikes and 600 stations in the Metro region. Capital Bikeshare is one of the most popular ways to commute throughout the city and it's easy to obtain and return a bike at one of hundreds of stations.
The city has adopted goals to transition to a 100% zero-emissions bus fleet by 2045. As an alternative to traditional diesel fuel, buses that run on compressed natural gas (CNG) produce roughly 45 percent fewer hydrocarbons, making them an attractive option for green meetings and events. In Washington, DC, more than 1,400 buses operated by the Washington Metropolitan Area Transit Authority (WMATA) run on alternative fuel that is less harmful to the environment, including CNG, advanced technology diesel fuel, and ultra-low sulfur diesel fuel. In addition, the DC Circulator costs just $1 (with free Wi-Fi) for all riders along six routes designed for easy-on, easy-off access at points of interest and popular neighborhoods throughout the District. The Circulator is ADA compliant and services Adams Morgan, Dupont Circle, Georgetown, Woodley Park, U Street and Capitol Hill.
Transitioning to zero-emission technology requires more than just new buses. Washington, DC will also invest in facility an infrastructure upgrades beginning with the January 2023 groundbreaking of its Northern Bus Garage Reconstruction Project that will become a 100% zero-emission facility upon reopening. The garage is currently being designed and built to accommodate a fleet of 150 electric buses. 
Washington, DC's environmental friendliness has a lot to do with its green space, as home to the National Park Service that operates various hiking trails, Memorial Parks, National Mall, Rock Creek Park, Chesapeake and Ohio Canal National Historical Park and more. In May 2022, the Trust for Public Land rated Washington, DC the best big city park system in the country for the second consecutive year. Twenty-four percent of the land in the District is reserved for parks, among the highest in the United States. The District also outperformed nearly all destinations on ParkScore's park access and park equity metrics, noting that the majority of its residents live within a 10-minute walk of a park.
03
Sustainable Hotels, Responsible Restaurants and Eco-Friendly Catering
The term "farm-to-table" has moved beyond a trend to a standard at local restaurants. Many DC restaurants have expanded their sustainability awareness with biodynamic agriculture, local farming and more that goes far beyond the kitchen. All of the delicious farm-to-table restaurants in Farmers Restaurant Group – Founding Farmers, Farmers Fishers Bakers, and Farmers & Distillers – are LEED-certified and have in-house recycling and composting programs that keep 90 percent of waste out of landfills. Bresca has joined ZeroFoodprint in an effort to fight climate change by going carbon neutral. Right Proper Brewing Company is run completely on solar power, producing almost all the company's consumed electricity. The company also uses LED lights in the tasting rooms and production facilities and gives spent grain away for free to local farmers.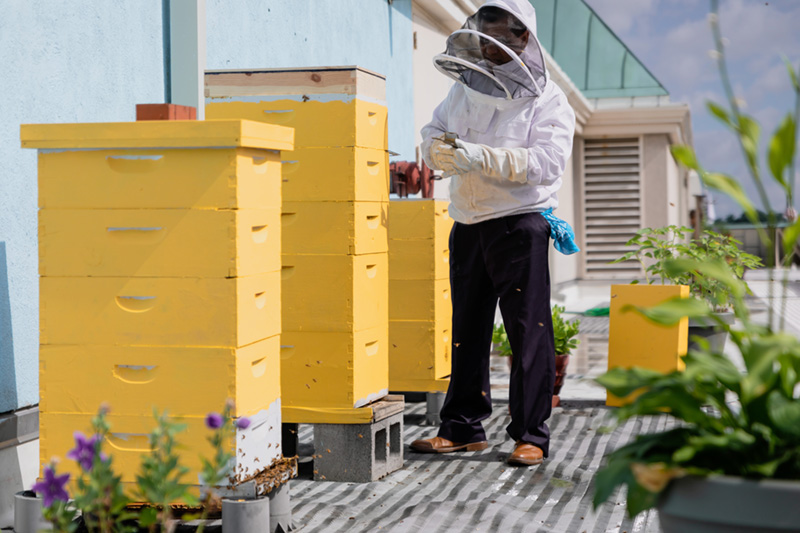 Fairmont Washington DC, Georgetown
Several of DC's hotels have embraced sustainability and continue to adapt as new challenges and opportunities appear. The Ritz-Carlton Georgetown is an adaptive reuse of a former vacant industrial building. The LEED Gold-certified Conrad Washington DC features a solar oven and garden on its rooftop. Its stormwater management system captures 97% of rainfall, used to irrigate the hotel's outdoor terraces and cool its air-conditioning towers. The Marriott Marquis Washington DC, a 15-story property with 105,000 square feet of meeting space adjacent to the Walter E. Washington Convention Center is one of the largest LEED Silver-certified hotels in the U.S. The modern hotel incorporated the historic brick AFL-CIO building into its design that currently houses a swank whiskey bar. The Fairmont Washington DC Georgetown is another great example, home to over 100,000 honeybees, which enhance the hotel's culinary program providing over 150 pounds of honey annually. The honey harvested from the rooftop beehives is used in soups, salad dressings, pastries, ice cream, cocktails and in the hotel's signature honey walnut bread. Certo!, located in the Royal Sonesta Washington DC Dupont Circle, is also committed to being a leader in sustainability with a rooftop garden that yields produce for garden composting and the hotel's work with DC Public Schools on cooking programs using herbs and produce from its garden surplus. When checking into the Viceroy, guests receive wooden keycards and electronic bill folios as well as parking discounts for hybrid vehicles. Guests at Motto by Hilton Washington DC City Center will find refillable water stations throughout the hotel, a vegetated roof area for hosting events and smart LED lighting and air conditioning with infrared sensors that auto shut when you are not in the room. The Kimpton Banneker Hotel partners with Clean the World, by providing them with unused portions of bar soaps that are recycled to provide hygiene kits for impoverished communities worldwide, as well as areas recovering from natural disasters.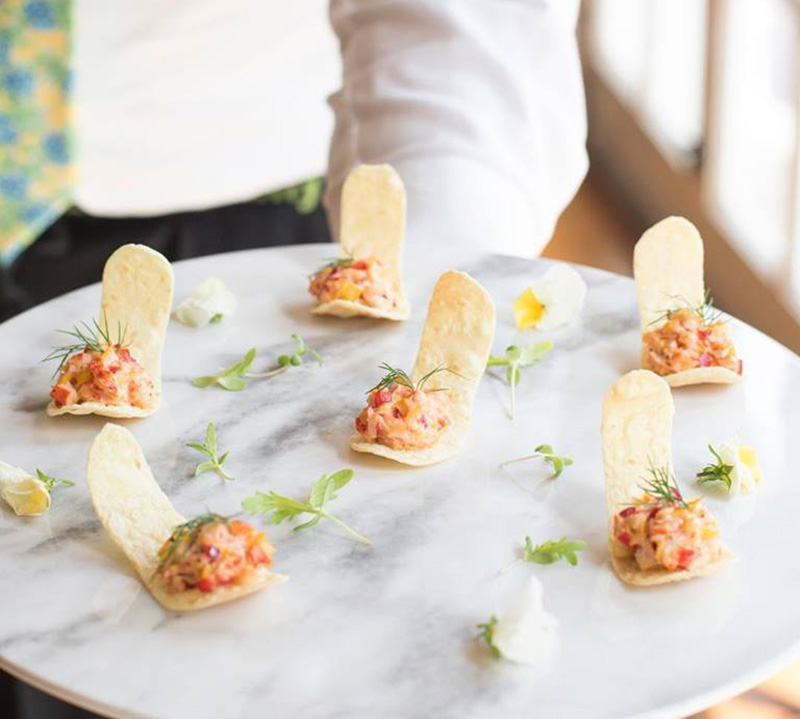 Ridgewells Catering
For food service needs during meetings, many catering companies in DC are socially sensitive businesses with responsible practices that support the local community, incorporate green recycling programs and produce eco-friendly offerings. Windows Catering Company focuses on green initiatives such as waste reduction, using pre-consumer waste composting as a standard practice. Occasions Caterers is one of the top catering companies for events in the nation's capital and works closely with the Green Restaurant Association, a national environmental organization that assists the company in implementing eco-friendly on-site practices. In 2008, Occasions was recognized as the nation's first Certified Green Restaurant Caterer because of the company's green initiatives, including a water filtration and bottling system, biodegradable service ware, local and sustainable ingredients and a water conservation system. Ridgewells Catering, RSVP Catering, Design Cuisine catering menus feature fish and seafood on the Monterey Bay Seafood Guide's Green List and local and organic beverages and spirits.  Main Event Caterers are among other companies that strive to reduce their impact on the environment and provide high quality sustainable food and beverage service for every DC meeting and convention.
04
Social Stewardship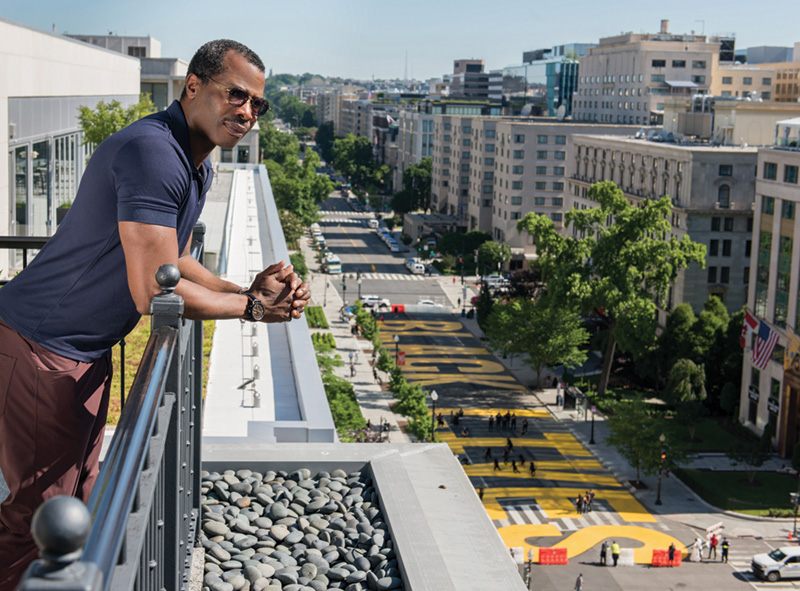 Washington, DC is a city that celebrates its history of protests and progress and its heritage of multicultural residents and visitors. From its leadership to its citizenry, DC is dedicated to ensuring travel to the city is at the benefit of locals and meeting attendees alike.
Elliott L. Ferguson, II, president and CEO of Destination DC (DDC), often leads conversations on the importance of prioritizing racial equity and social justice in the city. He also lends his voice to a broader audience, and is immediate past chair of Tourism Diversity Matters, a travel industry organization dedicated to presenting a united front on matters of diversity, equity and inclusion. With Ferguson's support, the DDC team has created the DEI District and its companion guide to meetings as a resource to planners and attendees preparing for their conference in the city. In 2022, DDC launched the DEI Business Fellowship program to support small businesses in the local travel and tourism industry owned by people of color, LGBTQ+ persons, women, persons with disabilities and their allies. This program offers complimentary marketing, mentorship, education and networking opportunities to help sustain and grow local businesses, specifically by reaching business and leisure travelers and offering event professionals a market of local convention services for their meetings.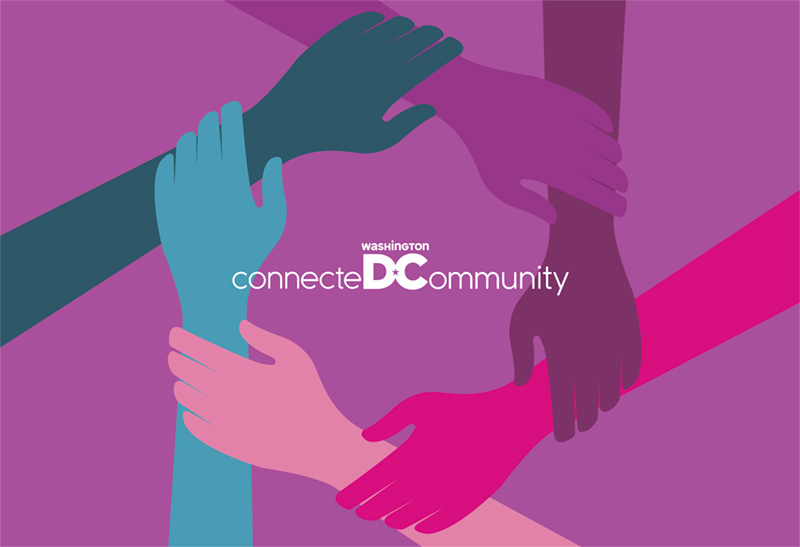 With often high numbers of attendees, meetings have the potential to make a huge impact on their host destinations. DDC's Connected Community initiative allows groups to plan a social impact project designed to leave a lasting legacy in DC, tailored to align with the mission of the group. In partnership with the city's Office of Volunteerism, Serve DC, planners can design a program that goes beyond the impact of typical corporate social responsibility projects and realize the organization's full potential to positively impact meeting attendees and the city of DC.
05
Designing Out Waste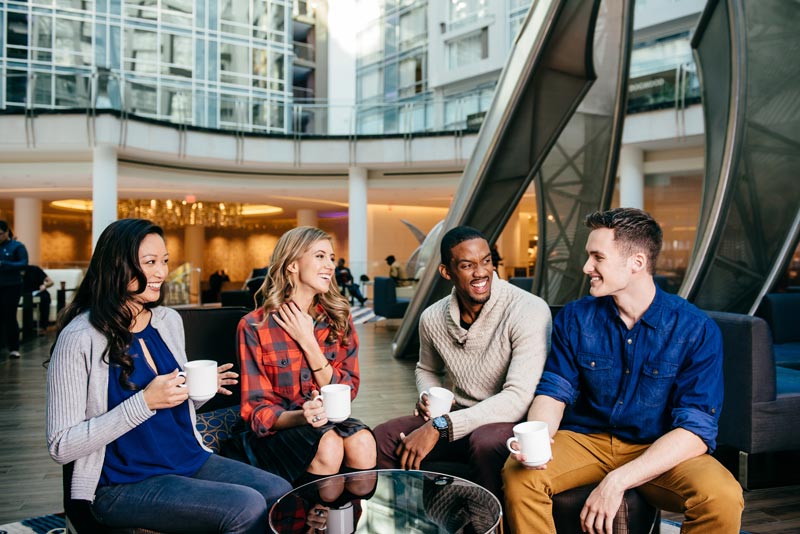 Washington, DC was named the world's first LEED Platinum City in 2017, in part due to the city having the most LEED-certified buildings in the U.S., according to the U.S. Green Building Council (USGBC). LEED is the most widely used green building rating system in the world. LEED for Cities was launched in 2016 and enables cities to measure and communicate performance, focusing on outcomes from ongoing sustainability efforts across an array of metrics, including energy, water, waste, transportation and human experience. The District boasts a plethora of LEED certified hotels and venues in the nation's capital and sustainable spaces in each quadrant. In 2022, Phase 2 of The Wharf opened with a new hotel, restaurants, a marina, parks and public spaces. Constructed as a sustainable neighborhood, the innovative waterfront area located on the Washington Channel of the Potomac River is designed to achieve LEED Gold Neighborhood Development status in 2023. 
The American Geophysical Union (AGU)'s 62,000-square-foot headquarters is the first-ever net zero energy renovation of an existing building in DC. "Net zero energy" means the total amount of energy utilized by the facility is equal to or less than the amount of energy generated onsite using technologies and renewable power generation. In turn, this reduces waste, water and energy consumption to almost zero and helps the city greatly reduce its carbon footprint. Some of the strategies that the AGU building put in place to fulfill this goal of being a net zero energy building include 700 rooftop solar panels, a municipal sewer heat exchange system and a water reclamation cistern, which collects rainwater from the roof.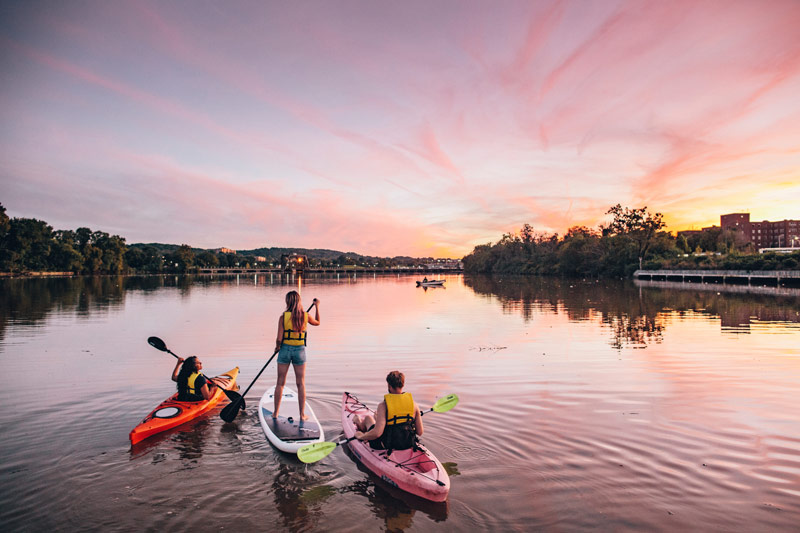 While designing strategies to reduce waste in new developments, it is just as important to mitigate the impact of the city's current waste. Washington, DC's LEED Platinum certification recognizes the city's leadership in creating a sustainable and resilient environment, reducing greenhouse gas emissions, supporting clean energy innovation and focusing on livability in all eight wards. Over the past two and a half years, Mayor Bowser's administration has released Climate Ready DC , which was entered into one of the largest municipal onsite solar projects in the U.S.; launched Sustainable DC 2.0, More recently, the Sustainable DC 2022 Progress Report noting the city ranked three on the 2021 City Clean Energy Scoreboard, a jump of two spots since 2019. 
Washington, DC has taken many steps to reducing consumption, reusing materials and recycling eligible waste throughout the city. In January 2010, the District encouraged residents to use reusable bags by implementing a five-cent charge for each disposable paper or plastic carryout bag purchased at a business selling food or alcohol. Proceeds from the carryout bag fee go into the Anacostia River Clean Up and Protection Fund.
In January 2016, the city banned the use of food service products made of expanded polystyrene, commonly known as foam. Mayor Muriel Bowser supports "Our Last Straw," a coalition of businesses, environmental organizations and residents seeking to eliminate single-use plastic straws. In January 2019, the District implemented fines for single-use plastic straws and stirrers, which continues to help the city move towards being a leader in sustainability.
 
The Department of Energy & Environment (DOEE)'s RiverSmart programs help to reduce stormwater runoff that harms the District's waterways and the Chesapeake Bay, while also providing financial incentives for District property owners who install green infrastructure such as rain barrels, green roofs, rain gardens and more.
From reducing greenhouse gas emissions to supporting clean energy innovation, check out why DC is a top destination for green meetings.