Washington, DC is a vibrant and diverse city with an array of unique neighborhoods waiting to be explored.
Each area boasts its own distinct character, attractions and hidden gems. Whether you're a history buff, foodie, art enthusiast or simply looking for a good time, we've got you covered. Join us as we take you on a journey through the coolest neighborhoods in DC, complete with local tips on what to see, do and expect.
Adams Morgan
Vibrant and diverse, Adams Morgan is known for its nightlife, an eclectic mix of restaurants and bars and a creative spirit. Explore the numerous bars, live music venues and international dining options along 18th Street. Don't miss the annual Adams Morgan Day Festival, when the streets come alive with music, art and food from around the world.

Local Tip: Embrace the diversity by trying out different cuisines, from Ethiopian to Latin American.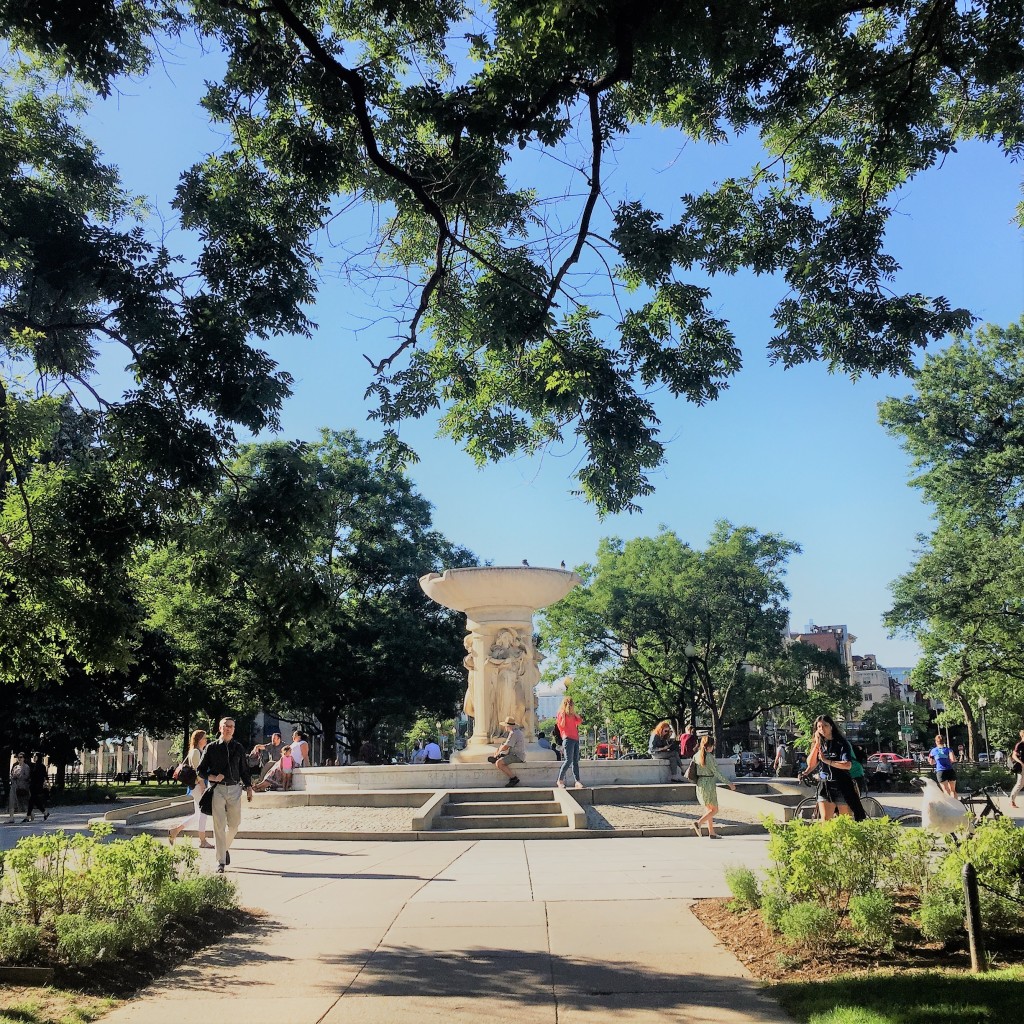 Dupont Circle
Exuding an air of sophistication and charm, Dupont Circle is home to historic mansions, embassies and trendy boutiques. Stroll through the picturesque Dupont Circle Park and visit the renowned Phillips Collection, America's first modern art museum. As far as food goes, expect that international flavor of embassies to rub off on restaurants. Dupont's dining spots radiate outward from the central circle and include a mix of marquee restaurants, casual bistros, brunch hot spots and late-night dining options.

Local Tip: Join the locals for a leisurely picnic in the park or visit the famous Dupont Circle Farmers Market on Sundays for fresh produce and unique artisanal goods.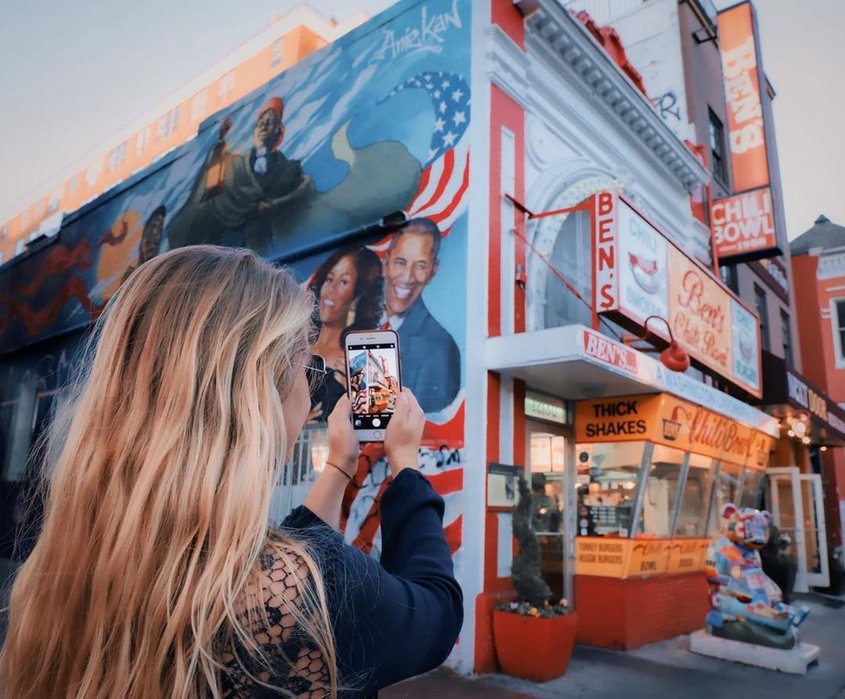 @happilyeveraleah
U Street
The U Street Corridor is the heart and soul of DC's Black heritage and jazz scene. In fact, it's also the birthplace of the iconic jazz musician Duke Ellington (1899-1974). Immerse yourself in the rich history of this neighborhood by visiting the African American Civil War Memorial and Museum or catching a live performance at the legendary Howard Theatre. U Street is also home to a bustling bar scene, with numerous clubs and watering holes catering to all tastes.

Local Tip: Don't forget to explore the adjacent 14th Street corridor, where you'll find an array of boutiques, craft cocktail bars and acclaimed restaurants.
Georgetown
DC's oldest neighborhood must be included in any excursion of the city. Georgetown presents a unique opportunity to visit and engage with some of the most historic spots in the city, including the C&O Canal, the Old Stone House, Georgetown University and the famous stairs used in the classic film, The Exorcist (1972). Take a leisurely stroll along the cobblestone streets, enjoy shopping for high-end fashion, and savor delicious cuisine by the water at places like Fiola Mare.

Local Tip: Explore the charming side streets and hidden alleyways, such as Book Hill, where art galleries meet bakeries and clothing stores.
H Street NE
After a remarkable recent transformation, H Street NE has become one of DC's trendiest neighborhoods, featuring an alluring collection of international restaurants, live music venues and beloved local spots. Catch a show at the Atlas Performing Arts Center, explore the street art that adorns the neighborhood and mark the calendar of the annual H Street Festival.

Local Tip: Take advantage of the free H Street Shuttle to explore the entire corridor with ease.
Capitol Hill
Home to the U.S. Capitol and the Library of Congress, Capitol Hill is a treasure trove of a neighborhood. Tree-lined streets and gorgeous row houses complement the jaw-dropping architecture of some of the country's most enduring structures. Visit the United States Botanic Garden, wander through the Eastern Market for local produce and artisanal goods and explore the historic Barracks Row for its dining and shopping options.

Local Tip: To experience the grandeur of the U.S. Capitol Building, consider joining a guided tour.
The National Mall
Often referred to as "America's Front Yard," the National Mall is a sprawling park that stretches from the U.S. Capitol Building to the Lincoln Memorial. The city's tourist hub is home to numerous Smithsonian museums, including the National Air and Space Museum and the National Museum of American History. Take a moment to reflect at the Vietnam Veterans Memorial and the Martin Luther King, Jr. Memorial and marvel at the beauty of the Tidal Basin during cherry blossom season.

Local Tip: Start your day early to beat the crowds and make sure to bring comfortable shoes for extensive walking.
Penn Quarter & Chinatown
Discover a dazzling mix of food, culture, shopping and sports in the Penn Quarter & Chinatown neighborhood. Explore museums like the National Portrait Gallery and the Smithsonian American Art Museum, pay respects at the United States Navy Memorial and enjoy riveting performances from Shakespeare Theatre Company and Woolly Mammoth Theatre Company. History buffs can visit Ford's Theatre (which also hosts large-scale productions) and the Clara Barton Missing Soldiers Office Museum. Sports fans can catch games at the Capital One Arena, and the area has a buzzing bar scene.

Local Tip: Penn Quarter & Chinatown's dining scene is enlivened by James Beard Award-winning restaurateur and chef José Andres. Three of his most popular restaurants are located in the neighborhood: Greek-Turkish foodie temple Zaytinya, brightly decorated Mexican spot Oyamel and Jaleo, Andres' tapas-focused tribute to his native Spain.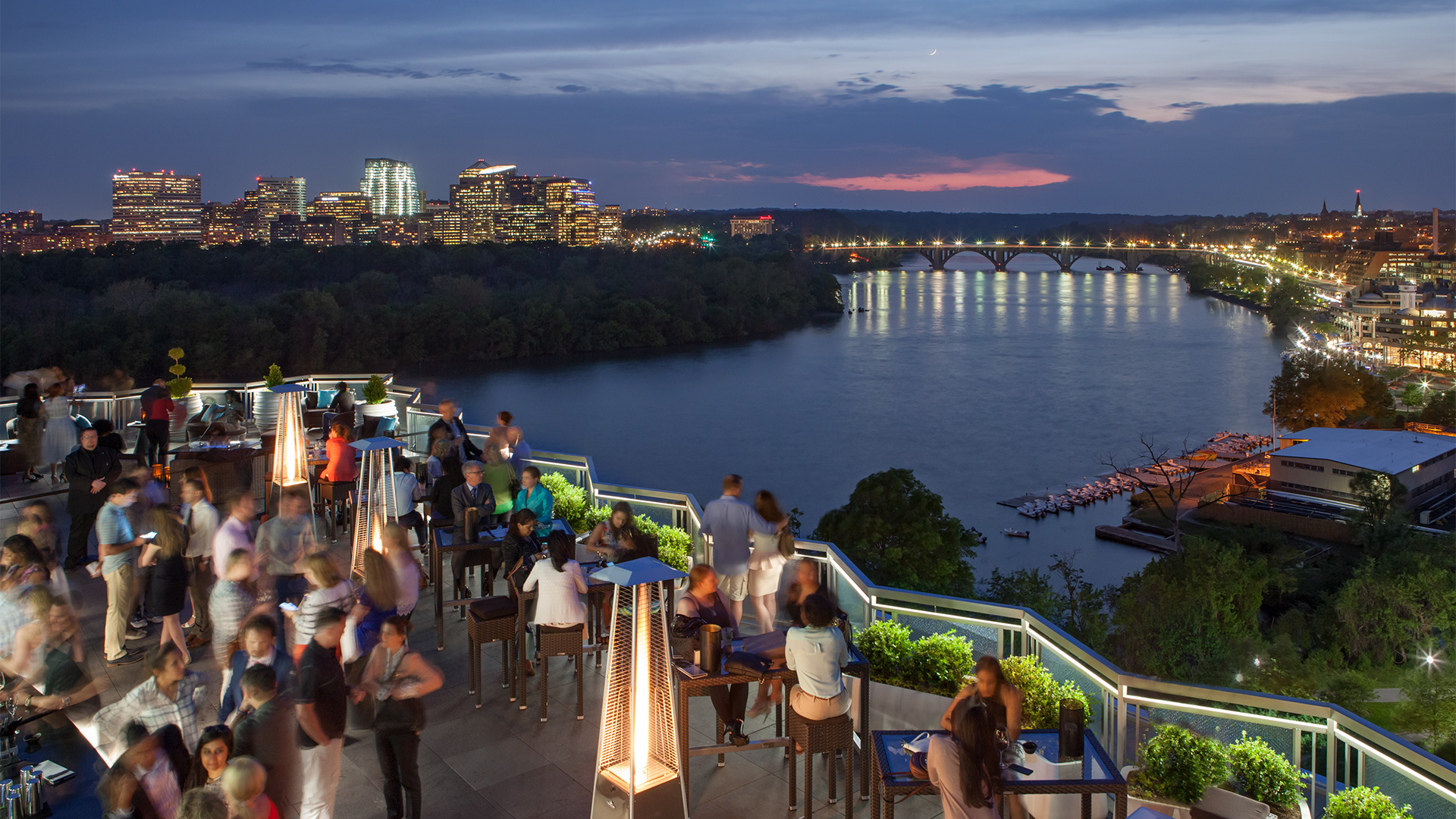 Foggy Bottom
Situated adjacent to George Washington University's campus and the John F. Kennedy Center for the Performing Arts, Foggy Bottom is a scenic neighborhood with a blend of academic, cultural and political influences. Visit the famous Watergate Hotel, explore spellbinding exhibits at the International Spy Museum and enjoy a scenic walk along the Potomac River.

Local Tip: Foggy Bottom also holds the southernmost end of Rock Creek Park, DC's 2,100-acre greenspace. Pick up biking and running trails near the Kennedy Center for riverside views and nature-viewing opportunities.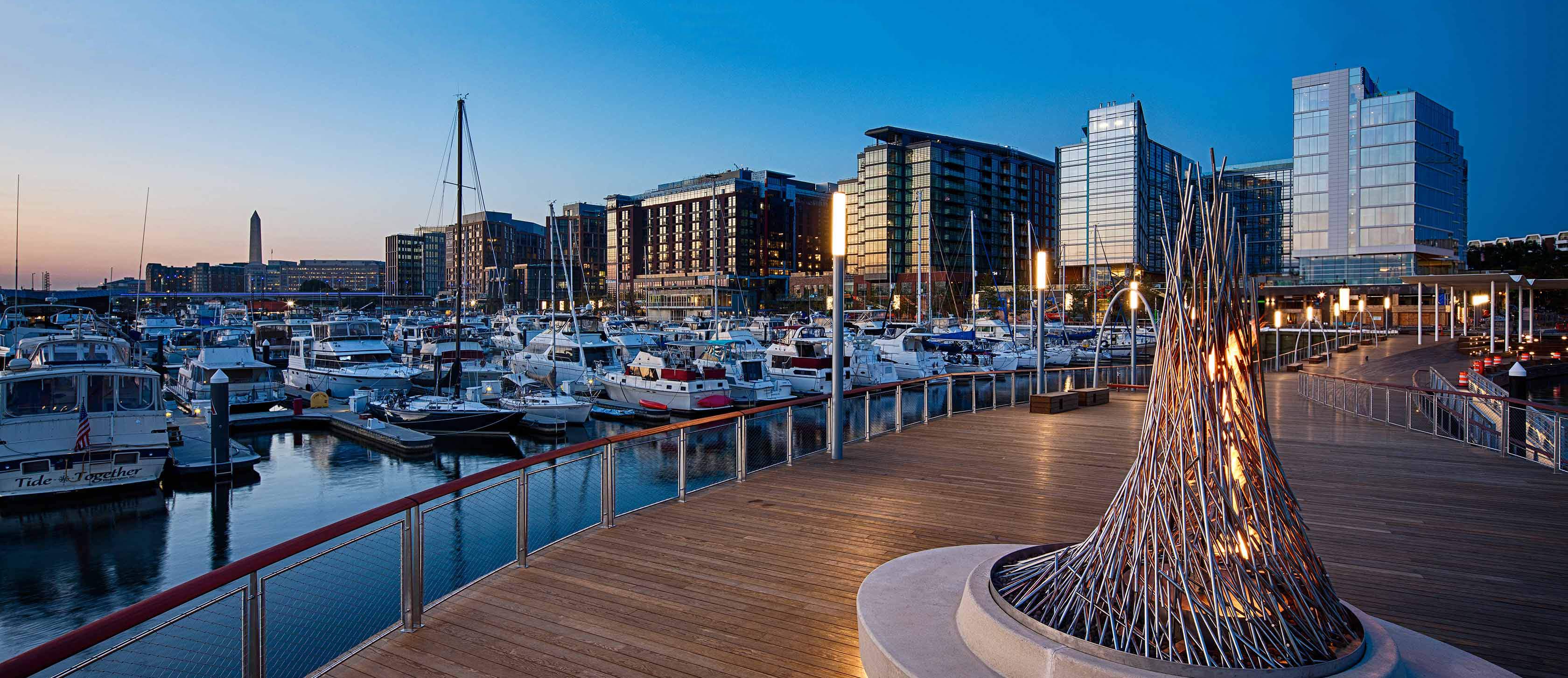 The Wharf
The waterfront neighborhood has transformed the Southwest Waterfront into a bustling hub of activity and entertainment. Walk down the Wharf Promenade, a scenic boardwalk featuring breathtaking views of the Potomac River, before you indulge in a culinary adventure at one of the development's many restaurants. Enjoying a concert at The Anthem or Pearl Street Warehouse is also a must.

Local Tip: Visit the Municipal Fish Market at The Wharf, which opened in 1805, making it the oldest continuously operating open-air fish market in the United States. The iconic destination is ideal for hungry locals and savvy visitors seeking fresh fish, crabs and cooked seafood.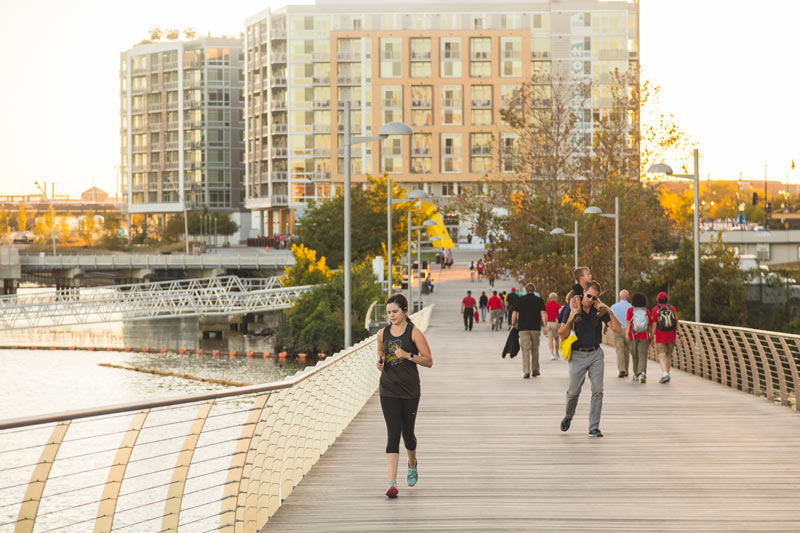 Runner along Anacostia River on the Capitol Riverfront - Neighborhoods in Washington, DC
Capitol Riverfront
Situated along the Anacostia River, Capitol Riverfront has become one of the most dynamic neighborhoods in the city in recent years thanks to the addition of Nationals Park. Before or after you attend a Washington Nationals game, you can explore the scenic Yards Park, perfect for picnicking or enjoying outdoor concerts and events. Discover an array of dining options, from trendy waterfront eateries to food stalls at outdoor markets.

Local Tip: Take a sunset stroll along the Anacostia Riverwalk Trail for stunning views of the U.S. Capitol Building and the water.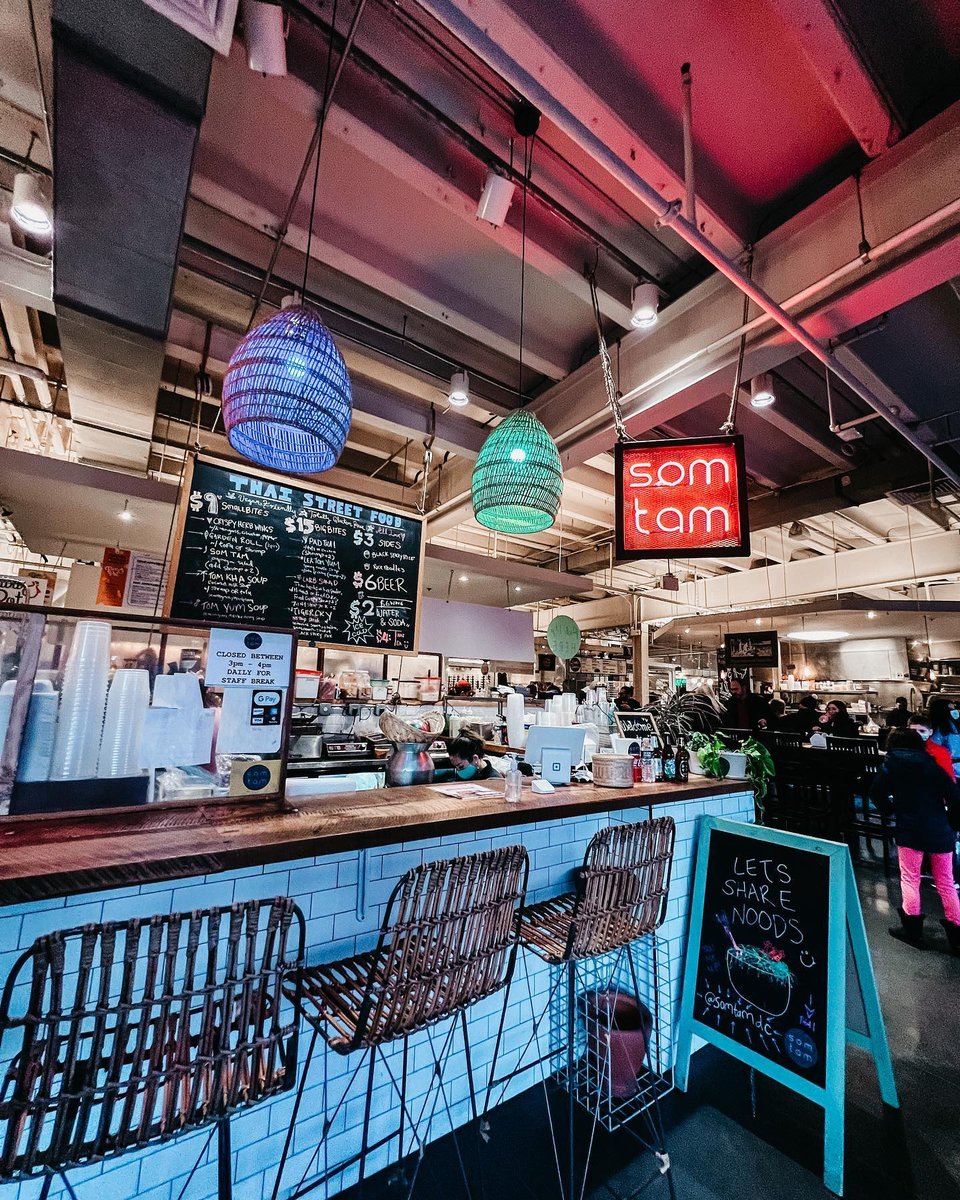 Union Market, @livingvisually
Ivy City
Once an industrial area, Ivy City has emerged as a hip neighborhood in DC. Visit the bustling Union Market, a culinary destination with diverse food vendors and artisanal products. Enjoy craft breweries, distilleries and distinctive dining experiences, all while immersing yourself in the neighborhood's creative energy.

Local Tip: Book a tour or tasting at District Made for an immersive voyage into the craft and creativity of spirits.
NoMa
Modern architecture, public art installations and colorful community spaces define NoMa, which is local lingo for "North of Massachusetts Avenue". Union Market's sister location, La Cosecha, offers Latin American cuisine and cultural experiences. You can also find a Capital Bikeshare station and hop on the eight-mile-long Metropolitan Branch Trail here, which goes all the way to Silver Spring, Md.

Local Tip: Check the neighborhood's events calendar for outdoor movie screenings, concerts and gatherings.
Shaw
Once only known for its collection of alleyways and murals, Shaw has transformed into a revitalized mecca for DC foodies while maintaining its strong cultural heritage. In addition to its burgeoning restaurant and bar scene, the neighborhood is near the beloved 9:30 Club, where outstanding musical acts play frequently. There's also the Landmark Atlantic Plumbing Cinema, one of the most unique moviegoing experiences in the city.

Local Tip: Venture off the main streets to discover Blagden Alley, a charming alleyway filled with murals, restaurants, galleries and speakeasy-style bars.
Looking for more? Check out our full list of neighborhoods here.